Nedra Says, "Eat Your Greens"…
I can almost hear you saying — why do so many people want us to eat leafy green vegetables? Don't they realize I have to buy them, wash them and store them? It's a pain. Well actually, the pain of not eating them could be greater in the long run than you might think! Consider this:
Just one serving a day cuts the risk of cardiovascular disease by 11% and diabetes by 9%. In a Swedish study, it was reported that frequent consumption of green "leafies" dramatically reduced the risk of stomach cancer, the fourth most frequent cancer in the world. Leafy greens—in particular kale, dandelion, mustard greens and Swiss chard—are good sources of the carotenoids, lutein and zeaxanthin, which help filter high-energy light that may cause eye damage. Lutein and zeaxanthin also reduce discomfort caused by glare, decrease the risk of cataracts and increase how far you can see. Pretty impressive, yes?
Leafy greens are an excellent source of folate, which can reduce your risk of memory loss. And since folate contributes to the production of serotonin, (the feel good neurotransmitter), it may help ward off depression and improve mood. Leafy greens also contain a lot of water, which helps keep you hydrated and contributes to beautiful skin and hair.
While spinach, watercress, beet greens, chard and all the dark green lettuces are excellent sources of nutrition, let's talk kale. It's definitely one of the mealthiest and most nutritious plant foods in existence. It's higher than spinach in vitamins A, C and K, as well as lutein and zeaxanthin and it's easily prepared as a tasty alternative to the usual green salads. Curly green (the one we usually find) and purple kale are slightly more pungent and bitter, whereas dinosaur kale is a bit sweeter and more delicate. Any can be used in either of the two recipes I'm sharing today.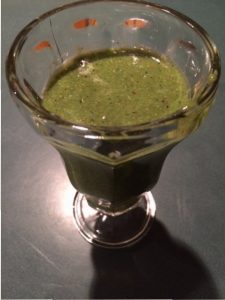 Green Perfection Kale Smoothie:
Choose this for an energy producing nutritious breakfast: Layer in your blender a mix of 1 cup of kale, ½ diced avocado, chunks of a peeled orange, and ½ apple, washed and cored. Add the juice of ½ lime, 2 scoops of Shaklee Life Shake vanilla and 8 ounces of water or almond milk. You may add ice if you wish. Blend for a minute and enjoy 20 grams of protein- enough to power you through the morning, 9 grams of fiber, (keeps you feeling full longer), vitamin C, vitamin K, and 24 other power packed nutrients.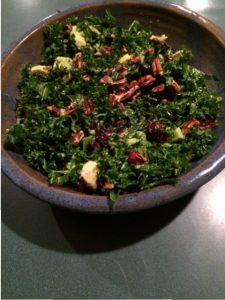 Spectacular Kale Salad:
I love this salad.
Ingredients:
• 3-4 large kale leaves.. about 5 cups
• ½ cup dried cranberries or pomegranate seeds
• ½ diced avocado
• ¼ cup toasted pecans , walnuts or almonds
Dressing:
Whisk together in a small bowl:
• 2 Tbsp fresh lemon juice
• 2 Tbsp Extra Virgin Olive Oil
• 1 tsp honey
• 1/2 tsp salt
• 1/2 tsp ground black pepper.
Directions:
The secret to a great kale salad is to remove all the ribs. Slice the kale off the rib and grab a bunch in your hand. Twist tightly and with a bread knife in the other hand, slice very finely. Add all ingredients, and toss with dressing. Serves 4.
To your health!
Enjoy!
Nedra